Greek ex-minister Papaconstantinou faces tax probe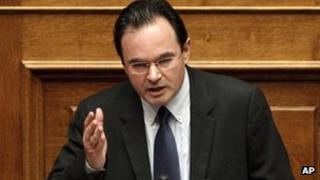 Greek MPS have voted to launch a criminal investigation into ex-Finance Minister George Papaconstantinou.
He is accused of tampering with a list of suspected tax evaders with Swiss bank accounts.
Three of Mr Papaconstantinou's relatives were removed from the list. He has denied involvement.
But MPS voted against extending the probe to another ex-finance minister, Evangelos Venizelos, and former PMs Lucas Papademos and George Papandreou.
The scandal centres on a list of names, provided in 2010 to the Greek government by then French Finance Minister Christine Lagarde, who is now head of the IMF.
The "Lagarde list", as it has become known, contained the names of over 2,000 Greeks who held Swiss bank accounts, and who may not have paid tax on all their income.
But the Pasok (Socialist Party) government of the time took no action and later claimed to have lost the list.
It later re-emerged, after a journalist published it, but the later version did not include Mr Papaconstantinou's relatives, reports say.
He has said the case against him has been fabricated.
The opposition leftist Syriza party had also wanted Pasok leader Mr Venizelos, who succeeded Mr Papaconstantinou as finance minister, to be investigated for failing to pursue the case.
There had also been calls to investigate M Papademos and Mr Papandreou.