Widespread welcome for Monsignor Martin appointment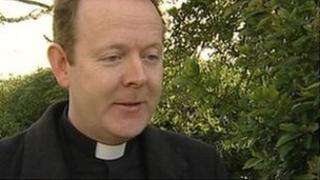 Deputy First Minister Martin McGuinness has congratulated Monsignor Eamon Martin on his appointment as coadjutor bishop in the Archdiocese of Armagh.
Mr McGuinness said he has known Monsignor Martin for many years.
He described him as a progressive thinker who has demonstrated an ability to connect with ordinary Catholics.
"This move provides an opportunity for renewal within the Irish Catholic Church so badly damaged by the handling of the criminal abuse of children."
Monsignor Martin is set to take over from Cardinal Brady as Archbishop of Armagh in the future.
"The next few years will be a crucial time for the Catholic Church in Ireland and I wish Monsignor Martin well in his new appointment and in meeting the many challenges that he will face in the years ahead,"
Derry based journalist Donna Deeney said Monsignor Martin has been an impressive figure since he became the Administrator of the Derry Diocese of the Catholic Church, just ahead of the publication of an audit into the sex abuse scandal in the diocese.
"He was the head of St Columb's College for a long number of years, so he is used to being among the laity and is well aware of the issues that are important to the working class people of Derry and that will carry him well in his new job."
The former Bishop of Derry, Dr Edward Daly, has also offered his congratulations to Monsignor Martin, whom he has known since he was a child.
"Over the last 25 years, Eamon has served both the Derry diocese and the Irish Episcopal Conference with distinction.
"He has fulfilled all the various major responsibilities entrusted to him since his ordination with outstanding ability.
"He will bring many skills and gifts to the Archdiocese of Armagh and, subsequently, to the Irish church.
"He is highly intelligent, knowledgeable and articulate, and an excellent communicator of God's word.
"I have known Eamon and his family since he was a child.
"His mother and family are rightly proud of him.
"I am pleased that a priest of the Derry diocese has been entrusted with this daunting responsibility and feel very honoured that I ordained Eamon to the priesthood of this diocese."