Russian activist Dolmatov in Netherlands 'suicide'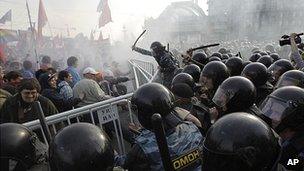 An anti-Putin activist who fled Russia and sought political asylum has committed suicide in a Dutch detention centre, Dutch officials say.
Alexander Dolmatov's death was not triggered by the refusal to grant him asylum in the Netherlands, the Dutch ambassador to Moscow said.
He cited an apparent farewell note that Mr Dolmatov, an activist in the Another Russia group, addressed to his mother.
But the activist's lawyer says he may have been coerced into writing it.
Mr Dolmatov went to the Netherlands last June, fearing arrest in Russia.
He had participated in a big opposition demonstration on 6 May last year - the eve of Vladimir Putin's swearing-in as president - which resulted in clashes with police.
The authorities have charged 18 people over the Moscow clashes and so far one protester has been sentenced to four-and-a-half years in prison.
Mr Dolmatov was found dead in a Rotterdam deportation centre early on Thursday, where he had been sent after the failure of his asylum application. Officials have not released details of the circumstances.
The Dutch acting ambassador in Moscow, Onno Elderenbosch, said it was clear from a suicide note that Mr Dolmatov's death was not triggered by his asylum disappointment.
Mr Dolmatov, an engineer, belonged to Another Russia, a group led by Eduard Limonov, who was barred from standing in the presidential election.
The activist's flat was searched by police after he left Russia and, according to Mr Limonov, he had been subjected to intimidation by the authorities.
Mr Dolmatov's lawyer Yevgeny Arkhipov said he doubted the Dutch authorities' version of events, saying he may have been coerced into writing the suicide note. He criticised the Dutch decision to place him in a deportation centre.