Turkey raids target banned Marxist group DHKP-C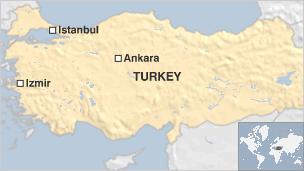 Dozens of people, including 15 lawyers, with suspected links to a banned Marxist group have been arrested in raids by police across Turkey.
Helicopters were used in some of the early morning raids in Istanbul, Ankara, Izmir and other cities.
They were targeting members of the Revolutionary People's Liberation Front (DHKP-C), a group blamed for a number of attacks in Turkey since the 1970s.
It is listed as a terrorist group by Turkey, Europe and the United States.
The group opposes Turkey's membership of Nato and what it describes as Western imperialism.
At least 85 people were arrested in the raids, Turkey's Hurriyet newspaper reports.
Among them are said to be 15 lawyers working for a firm in Istanbul that is known to defend left-wing activists.
One newspaper said they were accused of "transferring instructions" from the group's imprisoned leaders to "militants".
But a Turkish lawyers' association, CHD, accused the state of "an all-out attack against people and institutions who oppose the system and struggle for democracy and freedom", Hurriyet reports on its website.
The group's attacks have historically targeted the military and political establishment, and are reported to have claimed the lives of dozens of people including two retired generals, a former justice minister and a prominent businessman.