Norway goat cheese fire closes tunnel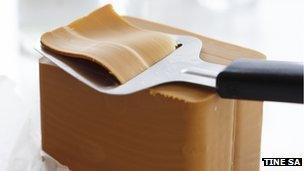 A road tunnel in Norway has been closed - by a lorry-load of burning cheese.
About 27 tonnes of caramelised brown goat cheese - a delicacy known as Brunost - caught light as it was being driven through the Brattli Tunnel at Tysfjord, northern Norway, last week.
The fire raged for five days and smouldering toxic gases were slowing the recovery operation, officials said.
The tunnel - which is said to be badly damaged - is likely to remain closed for several weeks, they added.
"We can't go in until it's safe," geologist Viggo Aronsen told Norwegian broadcaster NRK.
Police officer Viggo Berg said the high concentration of fat and sugar in the cheese made it burn "almost like petrol if it gets hot enough".
The lorry driver had noticed the fire in his trailer and abandoned it about 300m (1,000ft) from the southern entrance. No-one was hurt.
Kjell Bjoern Vinje, of the Norwegian Public Roads Administration, said it was the first time he could remember cheese catching fire on Norwegian roads.
"I didn't know that brown cheese burns so well," he said.