Bulgarian MP attack: man regrets gun misfired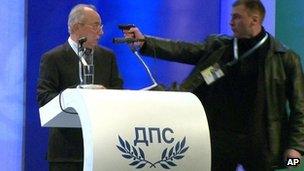 A man who put a gas pistol to the head of a Bulgarian politician during a televised conference has said his only regret was that it misfired.
Oktay Enimehmedov, 25, told a court hearing he wanted "to scare" politician Ahmed Dogan, leader of the Movement for Rights and Freedoms (MRF) party.
He has been charged with threatening murder and hooliganism.
The incident on Saturday at a party congress in the Bulgarian capital, Sofia, went viral online.
Mr Enimehmedov mounted the podium where Mr Dogan was giving a speech and pointed the pistol at his head. However, the firearm did not go off and the party leader pushed it away.
The man was bundled to the floor by security personnel and then punched and kicked.
The gas pistol he used is considered a non-lethal weapon used largely for self-defence, which does not fire bullets but can cause serious injury if fired from close range.
"I did not intend to kill Ahmed Dogan. I just intended to scare him," he told the court.
An ethnic Turk from the Black Sea town of Burgas, he was reported to have had a criminal record for drugs possession, robberies and hooliganism.
Prosecutors said they were investigating who beat him up after the gun was taken away.
Mr Dogan's liberal MRF party represents ethnic Turks and other Muslims, who make up about 12% of Bulgaria's population of about seven million.
The 58-year-old has led the party for almost 25 years.