Slovenian coalition loses majority as Civic List quits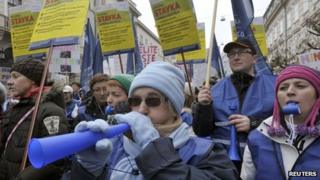 A junior partner in Slovenia's ruling coalition has quit, depriving the government of its parliamentary majority, its leader has said.
Civic List leader Gregor Virant said it was pulling out after Prime Minister Janez Jansa refused to resign over a corruption scandal.
Correspondents say Mr Jansa can carry on as head of a minority government, but early elections are likely.
The crisis comes as tens of thousands of public sector workers join a strike.
The strike includes a rally by several thousand people in the centre of the capital, Ljubljana.
Teachers, university lecturers, doctors and other state employees are protesting against austerity measures including a 5% wage cut.
Mr Jansa insists that the measures are necessary to restore public finances damaged by the eurozone crisis.
But the government has been dogged by corruption allegations, with a report this month accusing Mr Jansa of failing to declare more than 200,000 euros ($270,000; £170,000) in private assets.
He denies the allegations and has refused to resign, saying a political crisis could slow down vital reforms.
The state of Slovenia's economy - its GDP is shrinking faster than all eurozone countries except Greece and Portugal - has led analysts to warn that it might need an international bailout.