Athens hit by Greek transport strike after police raid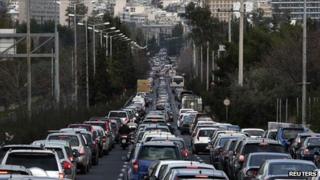 Traffic gridlock has paralysed Athens as Greek commuters struggle to work by car, amid a public transport strike.
Early on Friday police stormed a metro train depot, breaking up a workers' sit-in. Police sealed off the entrance.
Other transport workers have joined the striking metro workers in solidarity and a big rally is expected shortly.
The conservative-led government used an emergency law to threaten the strikers with arrest unless they resumed work. The row is over a planned pay cut.
The workers are now into the 10th successive day of strike action that has crippled the underground system. The Athens metro, trams and suburban railway serve more than 1.1 million passengers daily.
The government is using civil mobilisation legislation in a bid to force the workers to end their strike. It has only been invoked nine times since the collapse of Greece's military dictatorship in 1974.
The workers are striking over a public sector unified wage scheme that would see their salaries reduced by up to 25%.
The police operation took place shortly before 04:00 local time (02:00 GMT), with about 100 riot police officers entering the depot where workers had barricaded themselves overnight.
A police spokesman told the BBC three people had been arrested and subsequently released.
PM's tough message
Transport unions say they will continue their action, raising the possibility that some could face arrest and criminal charges, with a prison sentence of up to five years.
Under the terms of its massive international bailout, the Greek government has had to accept substantial spending cuts, such as redundancies and pay freezes in the public sector, and reduced pensions.
The austerity has had a big impact on the economy, with the unemployment rate hitting 26.8% earlier this month - the highest figure recorded in the EU.
But Prime Minister Antonis Samaras delivered a tough message to Greeks on Thursday evening.
"The Greek people have made huge sacrifices and I cannot allow any exceptions," he said.
Referring to the metro strike, he warned: "Everyone should understand we will not repeat the mistakes of the past."
His junior coalition partner, the Democratic Left, criticised the use of the civil mobilisation order as "an extreme choice" and urged more dialogue. But party sources quoted by the Kathimerini newspaper said the issue would not split the three-party coalition.
Socialist Pasok leader Evangelos Venizelos backed Mr Samaras's decision, calling the strike "unacceptable".
At the metro depot a striking worker told Reuters TV: "With this violent manner the government is trying to quash our battle, our demands, and put us down."
Greece's colossal debt mountain and struggle to reduce it fuelled speculation last year that Greece might have to abandon the euro.
So far, the European Central Bank, International Monetary Fund, and the European Commission have pledged a total of 240bn euros ($315bn; £196bn) in rescue loans, of which Greece has received more than two-thirds.