Polish egg producers at breaking point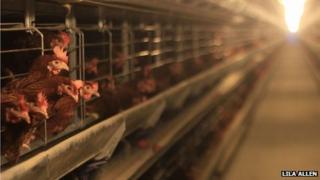 Poland is one of Europe's biggest egg producers. But smaller egg farms could become an increasingly rare sight in Poland because of new EU legislation. The BBC's Chloe Arnold reports.
Lukasz Serwatko is the third generation in his family to keep chickens. But where his grandfather had a smallholding with a few dozen hens scratching about in the yard, Mr Serwatko has a medium-sized farm with 130,000 birds in Chromakowo, about 75 miles (120km) north-west of Warsaw.
They live in cages stacked five high in a barn the size of an aircraft hangar.
It has carefully controlled heating and lighting systems, conveyor belts to transport the eggs to the packaging area and a machine that removes the chicken litter from the bottom of the cages and turns it into fertiliser.
But he says many farms like his are going out of business because of new EU legislation on the size of cages for laying hens.
Five years ago, when Mr Serwatko left agricultural college in the capital, Warsaw, to set up his farm, he was able to buy cages that complied with new EU rules. The "enriched cages" as they are called require chickens to have 750 sq cm of floor space (not much bigger than a sheet of A4 paper), a perch, an enclosed area at the back of the cage to lay eggs and a claw-shortening device.
''Barren cages'', the term for the older-style enclosures, were banned across the EU at the beginning of 2012.
Evidence of breaches
The hens are packed in 25 to a cage, which means there is not a lot of room for them to move around. There is a warm, comforting smell of feathers and a low clucking sound, but the birds do not seem unhappy, only a little curious to see visitors.
Some are standing on their perches, some are laying eggs in the enclosure at the back of each cage, and some are pecking at food in long, thin troughs that run from one end of the barn to the other.
"I was lucky I could buy the new cages," Mr Serwatko says. "But a lot of egg producers I know just didn't have the means to make the changes, and some of them are having to close down."
Polish egg producers typically take out a 15-year loan to buy equipment, he explains, but many were caught out by the new legislation and could not afford to purchase new cages or modify their old ones before paying off their debts.
The main problem is space, says Mr Serwatko. "In an area where previously you could house four chickens, now you are only allowed to house three."
"The bigger producers have shouldered the cost, but the smaller ones just can't survive," he says.
Many of those going under are the small producers with fewer than 10,000 birds.
The cost of making the changes was transferred to consumers, and the price of eggs shot up in Poland at the beginning of 2012, when the new legislation came into force. Though many of Poland's egg producers are now complying, the European Commission says it has evidence that some are still using the old-style cages in breach of the new rules.
Since last year, the cost of eggs has come down again, but there is a huge difference in price. Where half a dozen eggs from battery hens cost 3.5 zloty (70p/$1.10), the same number of eggs from free-range chickens can cost 9 zloty (£1.80/$2.90).
"Of course the new rules mean that hens are treated more humanely," says Jacek Bozka, an animal rights activist with the Klub Gaja organisation. "I've seen hens kept cramped in really terrible conditions. But for consumers, the welfare of the chickens often comes second to the price of their eggs."
Trade-off
In a country where wages are low and unemployment stands at around 14%, animal rights are a luxury many Poles cannot afford, he says. Outside a grocery shop in central Warsaw, shoppers were divided on the new legislation.
"I definitely think the comfort of the hens comes before the price, because eggs from chickens which have more space taste better," one young woman told the BBC.
"The European Commission seems to care more about chickens than it does about people," said an older man. "They make out they want to improve people's lives when they go on television, but it's all just talk."
According to the UK-based Compassion in World Farming organisation, 10 EU member states are still not complying with the new legislation, including France, the Netherlands, Spain, Belgium and Poland.
Frederick Vincent, a spokesman for health and consumer issues at the European Commission, said the organisation was putting pressure on these countries to conform with the new rules.
"If there is evidence they are still not complying in February, the Commission will begin legal proceedings against these countries, by referring them to the Court of Justice," he told the BBC.
Meanwhile, British farmers, and others in EU countries which have already improved their facilities, say they have incurred significant costs following the legislation. Unless the rules are enforced, they say, they are being put at a competitive disadvantage.