Poland hurt by EU aid freeze over suspicious road deal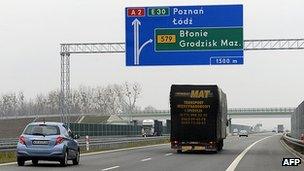 Polish officials have voiced dismay over an EU decision to block nearly 1bn euros (£859m) of funding for Polish road projects amid suspicions of fraud.
Ten construction firm managers and a former director of the Polish state road-building agency have been charged with attempting to fix prices.
A Polish minister insisted that contracts were awarded efficiently and called the EU freeze "peculiar".
Poland is the biggest recipient of EU regional development aid.
The European Commission says it has interrupted funding worth 957.2m euros for road-building in Poland.
The alleged fraud comes at a sensitive time for Poland, as an EU summit next week will focus on the 27-nation bloc's budget for 2014-2020. The EU is sharply divided over the budget, as the debt crisis has forced governments to make tough public spending cuts.
Poland is among the new member states which want current regional funding levels to be maintained or increased.
The Commission and national governments co-finance development projects, and former Soviet bloc countries in Central and Eastern Europe are big recipients because communism left them with some dilapidated infrastructure.
Poland's Regional Development Minister Elzbieta Bienkowska said the Polish system for awarding contracts "is running efficiently".
Quoted by state radio, she said "Poland is the aggrieved party in this matter, as it was Polish law enforcement agencies that detected that perhaps there was some price-fixing between contractors".
Her deputy, Adam Zdzieblo, called the Commission's move "completely incomprehensible and based on questionable assumptions".
Opposition politicians have called for the head of the state road-building agency GDDKiA to resign over the affair.
The Commission says it has "zero tolerance when it comes to fraud and the Commission's action is a reflection of our duty to protect the EU budget and EU taxpayers from a case of suspected fraud".
The EU statement went on: "It is for the Polish authorities, as victims of this alleged cartel, to take all possible administrative and legal actions against the perpetrators with a view to protecting their interests and recovering public money (national and EU)".
Related Internet Links
The BBC is not responsible for the content of external sites.