Marc Dutroux case: Belgium child killer asks for release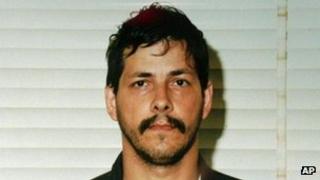 Belgian child killer Marc Dutroux has gone before a court to ask for early release from a life jail sentence imposed for the kidnap and rape of six girls, and three murders.
Dutroux, 56, asked a special court in Brussels to be released into house arrest with electronic tagging.
He has served almost 16 years of his life term.
There was huge security at the courthouse, which was sealed off by more than 100 police officers.
The court's books were cleared of other cases for the day as Dutroux's petition was heard behind closed doors, with journalists not allowed to see the proceedings.
There was only a handful of protesters outside the courtroom, chanting "the rope for paedophiles", Agence France-Presse news agency reported.
A ruling is not expected before 18 February and no release can be made before 30 April.
Ex-wife's release
The case outraged Belgium, not just because of the nature of the crimes, but also the blunders in the police investigation.
Although Dutroux was initially arrested in 1995, the case did not come to court until 2004.
Dutroux even escaped custody during a court visit in 1998. Although he was swiftly recaptured, Belgium's police chief, justice minister and interior minister later resigned.
Dutroux was finally convicted in 2004 of the abduction and rape of six girls, and the murder of two of them - teenagers An Marchal and Eefje Lambrecks - along with the murder of suspected accomplice Bernard Weinstein.
Two other eight-year-old girls starved to death.
In August last year, Belgium's highest court allowed Dutroux's ex-wife, Michelle Martin, to be freed after serving 16 years of her 30-year sentence and transferred to a convent.
Martin was arrested in 1996 and convicted in 2004 of complicity in the starvation deaths of the two eight-year-olds kidnapped by Dutroux and of helping him in the abduction of a number of others.
Her release generated huge anger in Belgium.
Both Dutroux and Martin were jailed in the 1980s for kidnapping and raping five young girls, but were freed early on good behaviour - only to go on to abduct more young victims.