Denmark shooting: Gunman targets Islam critic Hedegaard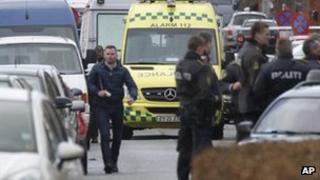 A prominent Danish critic of Islam, Lars Hedegaard, has been targeted in a gun attack in the capital Copenhagen, police say.
The 70-year-old writer and historian was not injured in the shooting.
The gunman approached Mr Hedegaard pretending to be a postman and missed with a shot at his head, police said.
Mr Hedegaard heads Denmark's Free Press Society, which argues that religious and ideological interests are threatening freedom of expression.
He also heads the International Free Press Society, founded in 2009, which launched an international campaign to support the Dutch anti-Islam politician Geert Wilders's right to criticise Islam.
Mr Hedegaard was fined in 2011 for making insulting statements about Muslims but Denmark's supreme court dismissed the judgment the following year.
PM's condemnation
Police said a gunman in his 20s rang the doorbell at Mr Hedegaard's Copenhagen home pretending to deliver a package and then fired a shot to the head which missed.
TV2 News reported that the gun then jammed, there was a scuffle and the attacker ran off.
Danish Prime Minister Helle Thorning-Schmidt condemned the attack, saying: "It is even worse if the attack is rooted in an attempt to prevent Lars Hedegaard using his freedom of expression."
Mr Hedegaard was fined 5,000 kroner ($905; 670 euros) in 2011 for degrading statements about Muslims.
Denmark has been a target for Islamist militants since the Jyllands-Posten newspaper printed cartoons of the Prophet Muhammad in 2005.
Many Muslims were offended by the drawings, which violated an Islamic tenet banning the portrayal of his image.
Somali refugee Mohamed Geele was jailed for trying to kill cartoonist Kurt Westergaard with an axe in January 2010.
Lors Dukayev, a Chechen asylum seeker, was jailed for terrorism over an attempted letter bombing of Jyllands-Posten in September 2010.
Correction, 6 February: We said earlier that Mr Hedegaard had been fined in 2011 for making insulting statements about Muslims. However, we have now made clear that the judgment was later thrown out.