Five Irishmen jailed over horse and cart race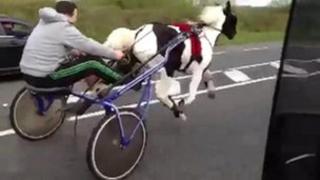 Five men have been jailed for taking part in an illegal horse and cart race through commuter traffic on one of the Republic of Ireland's busiest roads.
Footage of the race, which took place in County Cork last May, was uploaded to social networking websites and was viewed hundreds of thousands of times.
At Cork District Court on Friday, the judge said the race had caused havoc and the men had shown total disregard for other road users.
The men were jailed for five months.
The judge deferred the sentencing of a sixth defendant until next month, when a probation report is due to be presented to the court.
'Out of control'
The road races are known as sulky races, and involve horses pulling riders in two-wheeled carts.
Sulky races are traditionally associated with members of the travelling community.
On the morning of 5 May 2012, footage of the race was recorded on mobile phones and it showed the carts weaving between fast-moving traffic, with some travelling on the wrong side of the road.
Donal Daly, solicitor for five of the defendants, told the court such races are a tradition going back many years.
However, he added that on the day more people than usual turned up to watch and a "normal race situation got out of control".
Guilty pleas
The five men who were jailed were Patrick O'Brien, 25, of Woodford, Rossa Avenue, Bishopstown; James O'Brien, 28, of Inishannon Road, Fair Hill, Cork; Bernie McDonagh, 20, Nash's Boreen halting site, Cork; Daniel Stokes, 46 and Christopher Roche, 41, both of Knocknaheeny halting site, Cork.
They all pleaded guilty to a number of charges including dangerous driving.
In addition to the jail terms, the men were disqualified from driving for six years.
The sixth defendant 18-year-old James Stokes from St Anthony's Park, Knocknaheeny will be sentenced on 2 March.