Pope Benedict resigns: European media stunned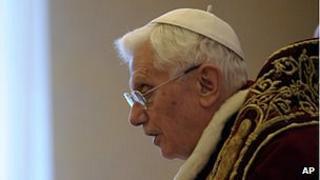 European media comments on the Pope's dramatic resignation draw attention to the huge challenges that have tested his papacy, but there is also some admiration for his bold, highly unusual decision to quit.
Writing in France's centre-left Le Monde newspaper, Stephanie Le Bars says the end of Pope Benedict's papacy is overshadowed by "machinations and plots".
"Benedict XVI seems to have been overtaken by the scale of the building sites that he himself has had to open, like it or not."
The comment piece says the Catholic Church "remains marked by a deadly centralism: the Pope and his aides get by in a universe from a bygone age".
The Pope's legacy to his successor "may prove to be weaker and more fragmented, rather than 'purified' or modernised", Le Bars writes.
'Going to the monastery'
The editor of German broadcaster Deutsche Welle, Bernd Riegert, calls the German-born Pope's move "a courageous step, a revolutionary step". "He has helped himself to freedom, he is setting boundaries. No longer will successors be able to cling on to their office."
Riegert expresses the hope that the next pope will be "more open to reforms and able to find answers to the Church's crisis in Europe and North America".
He notes that the Catholic Church is haemorrhaging members in its centuries-old strongholds, and finding it difficult to recruit new priests.
The popular German tabloid Bild splashes the headline: "Quitting! Now our Pope is going to the monastery".
The Pope's shock resignation is an "eruption of modernity" in the Vatican, according to Ezio Mauro, chief editor of Italy's La Repubblica daily.
Meanwhile, the Spanish daily El Mundo says Benedict will be remembered as "God's sweeper" - the man who tried to resolve the "numerous problems of the Church that did so much harm to its image".
In a video commentary, the chief editor of Poland's Rzeczpospolita daily, Boguslaw Chrabota, said: "I'm shocked, just like the whole world is... For a long time we have known about his health problems, but we never knew the details, of course. We thought that he would cope, that he would overcome his illness."
A Polish scholar of the Catholic Church speculates that the Pope may have felt the modern world was passing him by. Recently the Pope launched a Twitter account to reach out to young Catholics.
Prof Wojciech Swiatkiewicz, from the University of Silesia in Katowice, told Polish public radio that Pope Benedict was living through a cultural revolution associated with rapid changes in communication.
"I do not want to say that Pope Benedict XVI did not understand this, but for him this generation is remote and it is probably better if he is succeeded by someone from the younger generation," he said.