Internet firm eBay Inc creates 450 jobs in Ireland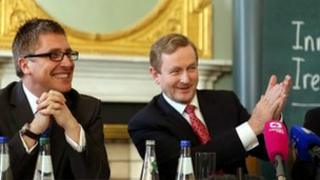 The internet auction site eBay Inc is to create 450 jobs in the Republic of Ireland.
The jobs will be at the company's operations centre in Dundalk, County Louth.
It will bring the total number employed by eBay Inc, including both eBay and its payments division PayPal, in Ireland to 3,550.
The expansion is being supported by the government investment agency, IDA Ireland.
The new positions will support eBay Inc's growing European customer base for eBay Marketplaces and PayPal.
The announcement was made by Irish prime minister Enda Kenny who described it as "exceptional news" for the border area.
"The fact that global technology leaders like eBay and PayPal are expanding their operations here shows that we have the local talent pool, infrastructure and business environment to attract high quality investments," he said.
Gary Hagel, a senior director with eBay said they were investing in their customer services team.
"Ireland is a centre of excellence for our global customer experience function and the country provides a highly-skilled workforce for eBay with the required technical and language skills, an attractive research environment and proven track record on delivery," he said.