Pope appoints Ernst von Freyberg new Vatican bank head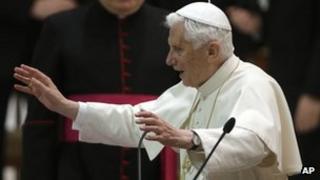 Pope Benedict XVI has appointed German lawyer Ernst von Freyberg to head the Vatican's embattled bank, officials have announced.
Mr Freyburg's selection is one of the last major appointments of the Pope's tenure in office.
The bank, officially known as the Institute for Works of Religion, has been dogged by scandal in recent years.
The pontiff, 85, shocked the world's biggest Christian Church on Monday when he announced his resignation.
Payments suspended
A Vatican statement said Mr Freyberg brought "a vast experience of financial matters and the financial regulatory process".
Correspondents say that he has solid financial and Catholic credentials as a member of the Knights of Malta military order, an ancient chivalrous organisation drawn from European nobility which last week celebrated its 900th birthday in Rome.
The Vatican said that Mr Freyberg had been appointed by the bank's commission of cardinals and that the Pope had "expressed his full consent".
The appointment ends a nine-month search after the previous president of the Institute of Works of Religion, Ettore Gotti Tedeschi, was removed from his post for dereliction of duty,
In 2010 Italian police launched an investigation against Mr Tedeschi as part of a money-laundering inquiry.
It said in May last year that a new director was required to restore relations with the international financial community, "based on mutual respect for accepted international banking standards".
Mr Tedeschi said that he was being victimised because he wanted more transparency.
In January the Italian central bank suspended all bank card payments in the Vatican, citing its failure fully to implement anti-money laundering legislation.
The Holy See was required to meet European Union safeguards on finances by the start of 2013.
Pope Benedict has promised greater transparency in Vatican finances and the operations of its bank.
A group of experts from the Council of Europe said last year that the Vatican had made progress in reforming to meet EU standards but that a lot of work remained to be done.