Cyprus votes for new president amid economic crisis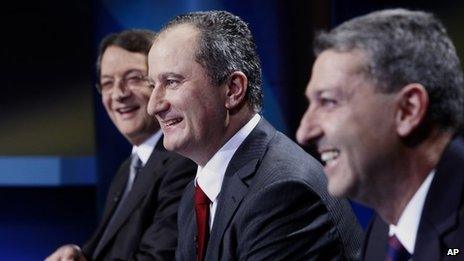 People in the Republic of Cyprus have begun voting for a new president.
Centre-right leader Nicos Anastasiades has a 15-point lead in the polls over his main rival, leftist Stavros Malas.
However, Mr Anastasiades is not predicted to win more than 50% of the vote, which would be required to avoid a run-off vote on 24 February.
The election has been dominated by the global financial crisis. In June, Cyprus became the fifth member of the eurozone to request a bailout.
Shut out of the international financial markets, the cash-strapped government was forced to seek financial help after Cypriot banks suffered huge losses as a result of the restructuring of Greece's sovereign debt.
It has requested some 17bn euros ($22.7bn; £14.6bn) from the European Union and International Monetary Fund - a small amount in comparison with other rescues but roughly equal to Cyprus's gross domestic product.
The BBC's Mark Lowen says that the priority for the winner of Cyprus's election will be to finalise the bailout.
Negotiations have been stalled by disagreement between the EU, IMF and the outgoing President Demetris Christofias, leader of the communist Akel party, over how to address the country's debt and who should pay.
Some investors fear that Cyprus will never be able to repay its debt, and many question its commitment to fighting money laundering and its strong links to Russia, which extended a 2.5bn-euro loan in late 2011.
"Everything is at stake, like it has never been before," Kyriakos Iacovides, publisher of the Cyprus Mail newspaper, told the Reuters news agency.
"The country must be rebuilt. Cyprus must be rehabilitated in the EU. We need a strong leadership to rebuild the country."
Mr Anastasiades, the head of the centre-right Democratic Rally (DISY) party, has promised a quick agreement on the bailout. He is close to Germany's Chancellor Angela Merkel, who expressed support for his bid while visiting Cyprus in January.
According to the latest polls, his closest rival among the 10 other candidates is Mr Malas, who is backed by Akel, closely followed by Giorgos Lillikas, an independent.
More than 545,000 people are eligible to vote in Cyprus. Another 14,000 Cypriots can vote at embassies abroad.
Voting is scheduled to end at 18:00 (16:00 GMT) and the final result is expected to be announced at around 20:30 (18:30 GMT).
Our correspondent says the new president will also face pressure to help reunite the island, divided between Greek and Turkish communities since 1974.
A recent huge natural gas find has given some hope to the country, but with unemployment soaring and recession biting, whoever wins this election will face a daunting task, he adds.
Related Internet Links
The BBC is not responsible for the content of external sites.