Marc Dutroux's mother pleads against release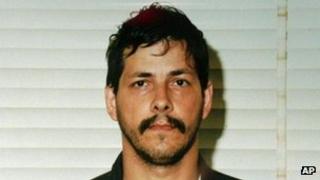 The mother of Belgian child killer Marc Dutroux has urged the courts not to grant his appeal for early release.
Jeannine Dutroux, 78, said she was sure her son would reoffend if allowed out of prison, in what are thought to be her first public comments since he was jailed in 2004.
A court is due to rule on his parole request later on Monday.
Dutroux, 56, was given a life sentence for kidnapping and raping six girls, four of whom died.
He was arrested in 1996; Belgian law states prisoners can be freed after serving 15 years of a life sentence if they are no longer considered a risk.
Dutroux insists he is not a danger to the public any more, and wants to be released into house arrest with an electronic tag.
But his mother told Le Soir Magazine: "I am certain he will start again. Marc isn't ready to be released because he still wants to attribute to others the responsibility for what he did.
"This is a repeat offender in his soul, as he has already proved throughout his life."
Le Soir Magazine is usually published on Wednesday but was rushed out on Monday ahead of the court's ruling.
Ex-wife's release
The Dutroux case outraged Belgium, not just because of the nature of the crimes, but also the blunders in the police investigation.
Police had visited the house where Dutroux was hiding two of his eight-year-old victims, without finding them. They were later found starved to death.
Although Dutroux was initially arrested in 1995, the case did not come to court until 2004.
Dutroux even escaped custody during a court visit in 1998. He was swiftly recaptured, but Belgium's police chief, justice minister and interior minister later resigned.
Dutroux was finally convicted in 2004 of the abduction and rape of six girls, and the murder of two of them - teenagers An Marchal and Eefje Lambrecks - along with the murder of Dutroux's suspected accomplice Bernard Weinstein.
Two other eight-year-old girls starved to death.
In August last year, Belgium's highest court allowed Dutroux's ex-wife, Michelle Martin, to be freed and transferred to a convent after serving 16 years of her 30-year sentence.
Martin was arrested in 1996 and convicted in 2004 of complicity in the starvation deaths of the two eight-year-olds kidnapped by Dutroux and of helping him in the abduction of a number of others.
Her release generated huge anger in Belgium.
Both Dutroux and Martin were jailed in the 1980s for kidnapping and raping five young girls, but were freed early on good behaviour - only to go on to abduct more young victims.