Belarus border guard jailed over teddy bear air drop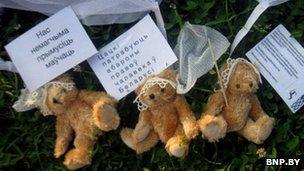 A court in Belarus has sentenced a border guard to two years in prison for failing to stop a plane dropping hundreds of teddy bears carrying pro-democracy messages over the country.
The Supreme Court said the officer would serve his sentence at a maximum-security correctional facility.
It did not reveal his name or rank.
President Alexander Lukashenko sacked two generals following the air drop, which was organised by a Swedish advertising firm and happened in July.
The light plane carrying two Swedish nationals was able to enter Belarusian airspace from neighbouring Lithuania, drop hundreds of bears from a low altitude over the central town of Ivyanets, and return to Lithuania without any interference from the Belarusian military.
Videos of the air drop and the teddy bears on the ground in the former Soviet state soon appeared on the internet and went viral, but it took the Belarusian government three weeks to acknowledge that the footage was authentic and threaten to shoot down any other intruders.
The stunt also triggered a diplomatic incident, with Belarus expelling Swedish diplomats and also withdrawing its embassy staff from Sweden.
The advertising firm, Studio Total, said it was inspired by Belarusian pro-democracy activists who were carrying teddy bears with protest slogans.
Related Internet Links
The BBC is not responsible for the content of external sites.