Pope Benedict XVI amends Roman Catholic conclave law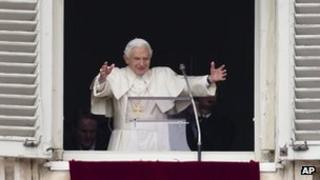 Pope Benedict XVI has amended Roman Catholic church law so that the conclave selecting his successor can be brought forward, the Vatican says.
The change to the constitution means cardinals will no longer have to wait 15 days after the papacy becomes vacant before beginning the conclave.
As a result, the conclave can now start before 15 March.
Pope Benedict XVI's resignation, the first by a pope in nearly 600 years, takes effect on Thursday 28 February.
His decision surprised many within the Catholic Church.
"I leave the College of Cardinals the possibility to bring forward the start of the conclave once all cardinals are present, or push the beginning of the election back by a few days should there be serious reasons," the Pope said in a statement read by his spokesman, Father Federico Lombardi.
Vatican officials explained that the change was partly due to the fact that the church constitution was written principally for a conclave following the death of a pope, rather than a resignation.
Easter rush
The decision on the date of the beginning of the conclave will be taken by the cardinals but will not happen earlier than 1 March, officials said.
A conclave beginning in mid-March would have left little time to have a new pope installed for one of the most important periods in the Catholic calendar, as Holy Week, leading up to Easter, begins on 24 March.
The BBC's David Willey, at the Vatican, says that the Pope has, throughout these changes, indicated that he wants to limit the power vacuum inside the Vatican to the shortest possible time after he leaves office on Thursday.
Our correspondent said it is now widely expected that the cardinals will lock themselves away in the conclave in about two weeks' time - around the weekend of 11 March.
The process of choosing a new pope involves cardinals from across the world gathering in Rome where they will then carry out a series of secret ballots until one of their number receives a majority of two-thirds of the votes.
The news about the timing of the conclave comes as the Pope accepted the resignation of the Roman Catholic Church's highest cleric in Britain, Cardinal Keith O'Brien.
It follows allegations - which he contests - of inappropriate behaviour towards priests dating from the 1980s.
Vatican officials said that Cardinal O'Brien's resignation was linked to the fact that he was approaching his 75th birthday and the Pope was keen to accept resignations and get business going ahead of his own resignation taking effect.
Cardinal O'Brien has confirmed he will not take part in the conclave to elect Pope Benedict's successor.
The Vatican also said that the contents of a report prepared by a commission tasked with investigating the leaks of confidential information would remain secret and would be passed on to the new pope.