Irish government high earners face pay cuts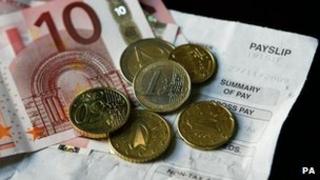 High earning government employees in the Republic of Ireland are to have their pay cut by 10%, Ireland's national broadcaster RTE is reporting.
It follows talks aimed a producing a new pay deal for the public sector.
The broadcaster says that the cuts will start at 5.5% for staff earning more than 65,000 euros (£57,000) and rise to 10% for those earning 185,000 euros.
The deal was arranged with public-sector unions help cope with the country's financial crisis.
The government said the cuts are needed to meet targets under Ireland's EU-IMF bailout.
It hopes to save 1bn euros over three years with the agreement, which is an an extension to the Croke Park pay deal.
In 2010, the Irish government and various public sector unions came to a deal at Croke Park.
Against a background of payoffs in the private sector the government agreed not to impose layoffs in the public sector and the unions agreed not to call for industrial action and to co-operate with efficiency reforms.
Unions will now ballot members on the proposals.
They include premium payments for Sundays to be reduced to time and three quarters and that overtime payments have been preserved at a lower rate.
Minister for Public Expenditure Brendan Howlin said the deal was a "fair and balanced agenda to repair our public finances".
"The revised measures recommended by the Labour Relations Commission meet the budgetary targets of the government and address many of the concerns expressed by the staff representatives during the negotiations," he said.
"All public sector workers have already made a significant contribution to our economic recovery, however, these further measures are absolutely required to achieve a sustainable payroll cost."
Shay Cody, the chair of the public services committee of the Irish Congress of Trade Unions said that a deal had been reached.
"We have achieved far more through negotiation than we could have hoped to gain through protests," he said.
On Sunday night four unions walked out of the talks, and warned that if the government tried to legislate for pay cuts they would "mobilise all their resources".
The unions that left the talks were the Irish Medical Organisation, the Irish Nurses and Midwives Organisation, the Civil Public and Services Union and Unite.
The representative body for Irish police officers has already outlined its objection to the plans for pay cuts.