Italy President Napolitano calls for realism after vote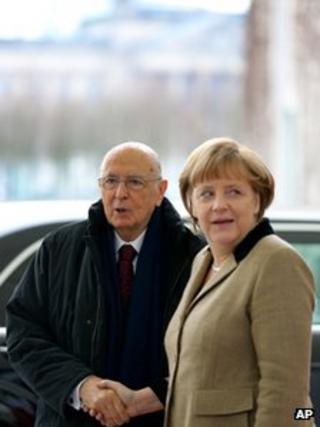 Italian President Giorgio Napolitano has appealed to political leaders for "realism, a sense of responsibility" in resolving their post-election deadlock.
Almost a week after Italians voted, the three biggest blocs are struggling to find common ground
Beppe Grillo, head of the Five-Star Movement (M5S) which emerged as the biggest party, has rejected an alliance with the centre-left and centre-right.
But he says he is prepared to prop up a coalition, on a vote-by-vote basis.
'Two-faced'
Centre-left Democratic Party (PD) leader Pier Luigi Bersani, whose coalition won most seats in the lower house of parliament, insisted on Friday that he would never join a grand coalition with the centre-right bloc led by former PM Silvio Berlusconi.
Mr Bersani was unable to win a majority in the equally important upper house, the Senate.
Mr Grillo, a former comedian whose movement polled a quarter of the vote, underlined the political gap between his movement and the PD, when he attacked Mr Bersani's left-wing ally Nichi Vendola as "two-faced".
He insisted he would not take part in "horse-trading".
In a statement on his return from meeting Chancellor Angela Merkel in Germany, President Napolitano appealed to Italy's politicians to exercise "moderation, realism, a sense of responsibility".
He said Italians were facing "the most disparate hypotheses" about a solution for their current crisis.
The deadlock is heaping further pressure on Italy's fragile economy and causing anxiety in the eurozone.
In an interview that appeared on German magazine Focus on Saturday, Mr Grillo said Italy was being crushed "not by the euro but by our debt".
He was quoted as saying that his movement would back the centre-right and centre-left blocs if they supported an immediate change in Italy's electoral law, the cancellation of repaying election expenses and a maximum of two terms for MPs.
"But they won't do that. They are just bluffing to win time."
Mr Grillo later insisted that his words had been taken out of context.
"For the last time," Beppe Grillo tweeted, "M5S will not give a vote of confidence to any government (and much less a PD-PDL government) but will vote law by law according to its programme."