Czech President Vaclav Klaus rejects treason charge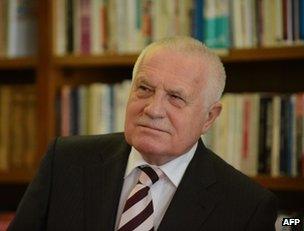 The outgoing Czech president has said his impeachment by the upper house of parliament over his New Year judicial amnesty is politically motivated.
Vaclav Klaus dismissed the house's move to bring him to court on treason charges, saying it was an attempt by opponents to blacken his name.
He is stepping down on Thursday after his second and final term in office.
Under his amnesty, multiple high-profile corruption cases were suspended, sparking public anger.
He was impeached by the Senate on Monday, and will be called before the Constitutional Court to explain his decisions.
A Senate assistant has formally delivered the complaint to the Constitutional Court.
Senators - mostly members of the left-wing opposition - say the amnesty and Mr Klaus's refusal to sign international treaties and appoint new judges are violations of the country's democratic order.
This, they said, meets one of the definitions of high treason - the only crime a sitting Czech president can be tried for, the BBC's Rob Cameron reports from Prague.
Speaking at a book signing at Prague Castle, Mr Klaus, 71, described the Senate vote as the last straw in a long campaign to discredit him.
He said he was saddened at how far political culture in the Czech Republic had fallen.
The Constitutional Court is expected to deliver its verdict in weeks.
Mr Klaus faces losing his presidential pension and a ban on ever running for president again.
Thirty-eight senators in the 81-seat house voted to impeach him, with 30 voting against. Only the Senate has such power in the Czech legal system.
The amnesty, which allowed for the release of some 7,000 prisoners, halted the prosecution of cases that had dragged on for more than eight years.
In one fell swoop, a dozen high-profile corruption cases - cases that involve millions of dollars in asset-stripping, bribes and fraud - were thrown out.
The halted prosecutions included that of prominent businessman Tomas Pitr for alleged tax fraud and that of former football association chief Frantisek Chvalovsky for embezzlement.
Related Internet Links
The BBC is not responsible for the content of external sites.