US cardinals cancel Rome briefing 'after leaks'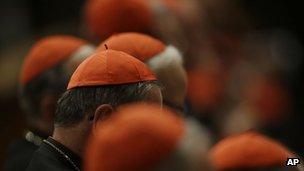 US cardinals in Rome to choose a new pope have cancelled a popular daily press briefing as the conclave nears.
The Vatican denied it had exerted any pressure on the American cardinals to keep quiet, saying the group had decided to increase confidentiality.
A spokeswoman for the US cardinals said they had cancelled it after other cardinals had expressed concerns about leaks of "confidential proceedings".
All but two of the 115 cardinal electors aged under 80 are now in Rome.
Pope Benedict stepped down last month after nearly eight years in office, becoming the first pontiff to do so in 600 years.
"The College [of Cardinals] as a whole has decided to maintain a line of an increasing degree of reserve," Father Federico Lombardi said, making it clear that the meetings which precede the conclave are considered secret and part of the solemn process to choose a pope.
He said the meetings, known as general congregations, had to take place in a "climate of confidentiality".
Italian media have speculated that Italian cardinals were uncomfortable with the Americans' briefings, and their openness about wanting to delay the start of the conclave.
Under church law, cardinals have until 20 March to begin a conclave to choose a new leader for the 1.2 billion-strong Church.
More than 150 cardinals have attended the third day of preliminary meetings.
The cardinals are discussing the problems faced by the Roman Catholic Church, among other matters, during the meetings.
According to Reuters, a number of cardinals have said that they wished to be briefed on the contents of a report commissioned by Pope Benedict on the scandal surrounding his butler.
Paolo Gabriele was convicted of stealing papal documents and leaking them to the media.
The Vatican also said that the former Pope Benedict's Fisherman's Ring - the special signet ring which contains the pope's name and is impressed to validate certain official documents - had been scored, rather than destroyed, as earlier reports had suggested.
Related Internet Links
The BBC is not responsible for the content of external sites.