Italy's MPS bank's David Rossi found dead in Siena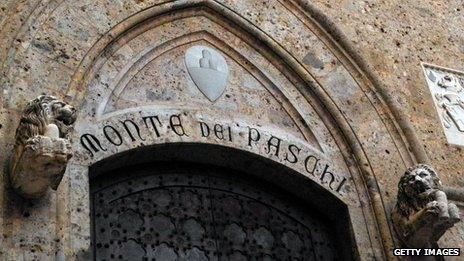 The communications director of troubled Italian bank Monte dei Paschi di Siena (MPS) has died in an apparent suicide.
David Rossi's body was found beneath an open window at the bank's 14th Century headquarters in Siena.
Mr Rossi was among several MPS employees whose homes and offices were searched by police last month - though no charges were brought against him.
MPS, which is the world's oldest surviving bank, is at the centre of fraud and corruption allegations.
Investigations are under way into how hundreds of millions of euros went missing amid risky investments in complex financial deals.
The bank has needed a multi-billion-euro bailout from the Italian state to help cover its losses.
"The death of David Rossi is a terrible tragedy," Monte dei Paschi said on its Facebook page.
"This tragic event imposes first of all respect for his person, for the mourning of his family and for all of us, and calls on us to find the strength and the courage to go ahead and continue in our commitment."
Andrea Greco, a reporter for Italian newspaper La Repubblica who knew Mr Rossi, said: "He was a very serious person, under pressure over a judicial probe which had touched on him through a recent police search, even if he was not under investigation."