Bulgaria protests: New self-immolation in Sofia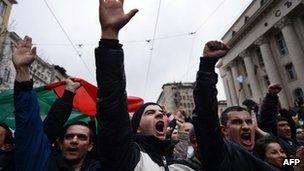 For the fourth time in the past month, a Bulgarian has set fire to himself.
The man, 52, threw petrol over himself outside the presidential palace in Sofia, police said.
Security guards extinguished the flames and he was taken to hospital with severe burns where an official said his life was in danger.
The man's motives were not known but the incident follows weeks of protests against poverty, high fuel bills and corruption.
The demonstrations led to the fall last month of the centre-right government led by Prime Minister Boyko Borisov.
A caretaker administration headed by a diplomat, Marin Raikov, was announced on Tuesday to run the country before elections expected in May.
A week-long break in the demonstrations has been announced to give the new government a chance to begin work.
The latest man to set himself on fire was named as Dimitar Dimitrov. He suffered 25% burns to his head and shoulders, according to Professor Ognyan Hadjiski from the burns unit at the Pirgov Hospital.
Three other men have died in similar incidents in recent weeks.