Turkey Kurds: PKK chief Ocalan to make 'historic' call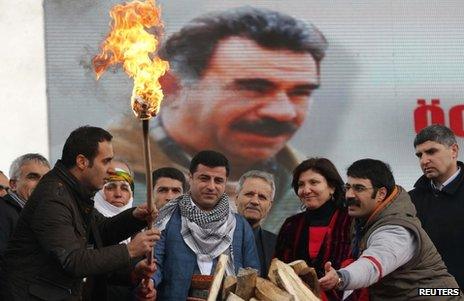 The jailed leader of Kurdish rebels fighting Turkey, Abdullah Ocalan, has promised a "historic" announcement on Thursday as peace talks continue.
There is speculation he will call for a ceasefire between his PKK fighters and the Turkish state.
In a message communicated by Kurdish politicians who visited him, he said he would make the announcement to coincide with Kurdish New Year celebrations.
More than 40,000 people have died in nearly 30 years of fighting.
Peace and Democracy Party leader Selahattin Demirtas reported Ocalan's remarks in Istanbul, after returning from a visit to his prison on the island of Imrali.
"I continue with my preparations to make a call on March 21, during the Newroz [New Year] celebrations," Ocalan was quoted as saying.
"The declaration I am going to make will be historic."
The PKK (Kurdistan Workers' Party) leader, who has been in Turkish custody since his capture in Kenya in 1999, called in February for prisoners to be released by both sides.
The PKK freed eight Turkish soldiers and officials it had held captive in northern Iraq for up to two years.
Turkey's Deputy Prime Minister, Besir Atalay, welcomed their release as "a gesture of goodwill", adding that the peace process was "going just fine".
The PKK launched its armed campaign for an ethnic Kurdish homeland in south-east Turkey in 1984.
It is regarded by Turkey, the US and EU as a terrorist organisation. Last year saw some of the heaviest fighting in decades.
Related Internet Links
The BBC is not responsible for the content of external sites.