Richard Hinds guilty of Nicola Furlong murder in Tokyo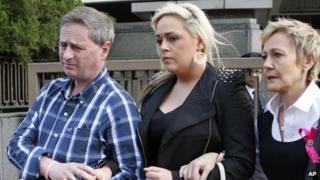 An American man has been found guilty of the murder of Irish student Nicola Furlong in Tokyo last May.
Richard Hinds, 19, was given a sentence of a minimum of five years and a maximum of 10 years, with labour.
In sentencing him, the chief judge said Hinds had shown no sign of remorse and had tainted the honour of the victim.
Ms Furlong, 21, was found strangled in a hotel in Tokyo in May last year. Hinds, from Tennessee, had denied the 21-year-old's murder.
The victim, from Curracloe, County Wexford, was studying in Japan as part of her studies with Dublin City University.
During the trial the prosecution had argued that Mr Hinds should serve a 10-year prison sentence.
Ten years is the maximum a minor can receive in Tokyo.
Last week, a friend of Hinds was convicted of sexually assaulting the woman Nicola Furlong was with on the night she died.
James Blackston, a 23-year-old dancer from Los Angeles, was sentenced to three years in prison.
Ms Furlong and her friend, who is also Irish but whose name was withheld, went to Tokyo to see a concert.
After the concert, the two met Hinds and Blackston and went with them to a bar.
At some point both of the women passed out. Prosecutors said they were drugged.
Security camera footage presented as evidence showed Blackston sexually assaulting Ms Furlong's friend in a taxi on the way to the hotel.
At the hotel, the men borrowed wheelchairs to get the unconscious women to the rooms.
Prosecutors said Hinds strangled Ms Furlong with a towel to keep her quiet after she regained consciousness.
Hinds was 19 and a minor under Japanese law when he was arrested, but is being tried in an adult court.
'Disgusted and angry'
After the sentence, Ms Furlong's mother Angela said: "Nicola's life was worth more than that.
"We still don't know the truth of what happened in that room but we know Nicola did nothing wrong, we knew that coming out anyway."
Nichola's sister Andrea said she felt let down by the Japanese criminal justice system.
"I'm absolutely disgusted and so angry and so hurt," she said.
"We had so much faith in the Japanese doing justice for us and I don't feel we got it."