How the Cyprus crisis impacts you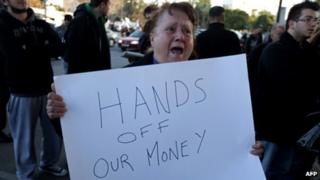 Political leaders in Cyprus are meeting for emergency talks after its parliament overwhelmingly rejected an international bailout deal.
Since the controversial levy was announced on Saturday, banks in Cyprus have remained closed to prevent people from withdrawing funds.
The proposed bailout plan was met with consternation by many residents of Cyprus.
BBC News website readers have been discussing how their day-to-day lives have been affected by the crisis.
Allyson Agapiou, Limassol
I am a British citizen married to a Greek Cypriot and have lived in Limassol for the past 27 years.
My husband has been made redundant twice in the past three years - most recently just last week - and our life savings are in the Bank of Cyprus in a deposit account.
I also have money saved for my daughter to finish her studies at Newcastle University.
We stand to lose a lot.
Why should we be made to pay for the mistakes of our banks and our politicians?
No other European member state has received this kind of treatment and I feel betrayed by Europe.
I have managed to withdraw a small amount of cash from a current account but have no access to my savings accounts.
Gary Winwood, Ayia Thekla
The situation here is dire. The banks are all closed.
Some people can access their money through their current accounts.
My wife and I have all our life savings here.
We do not owe a penny to the UK or Cyprus or anywhere else for that matter and have saved hard to get where we are today.
We paid our taxes in the UK before we left and pay tax here on interest on deposits thus contributing to the Cyprus economy.
Most of our money is kept in deposits in a saving account so I cannot make withdrawals.
The cash machines are supposed to be restocked but are often found empty.
We've got enough money to last us until the end of the week.
People here are very anxious and worried what will happen if the banks collapse.
Stephania Stavri, Nicosia
We can still use the ATMs as long as we withdraw small amounts of money from our savings accounts.
My husband went to our local bank on Saturday so that we could pick up a few bits and pieces and discovered the cash had run out of all seven banks there.
He had to travel 25km to find a bank with money in it.
Of course like everyone else we're very anxious.
The problem is my husband is paid at the end of each month by cheque.
If the situation doesn't change soon, how is he going to deposit his cheque and receive his salary?
If the situation is not resolved by next Friday, I don't know what we'll do.
I'll probably have to go around with a begging pot.
The local media here don't tell us what is happening - I don't think Cypriots have been informed of the full scale of the situation.
Natalia, Limassol
My friends who have money in the banks are in a panic.
When I go for shopping, I see that people economise their cash and pay by card even for small things.
Meanwhile, some people are running out of cash already.
Luckily I withdrew all my money from my accounts before the banks closed, so I haven't experienced any problems myself.
Even if the banks open again, everyone will withdraw their money because they are worried about what will happen if the banks collapse.
Now our concern is what will happen on salary day - will we even get paid at the end of the month?
People are saying that if lots of people withdraw their cash then there will be an increase in crime.
Nicolle Drakou, Nicosia
It now seems that local shops and petrol stations as well as the major supermarkets will only take euros in cash.
This is great news considering the banks are still shut and the ATMs are mainly empty.
The multinational company I work for was supposed to initiate salary transfers as our salaries are due on Friday but they can't access their accounts, so we in turn cannot be paid until banks open again.
It is becoming like a war zone.
Even if the banks open on Tuesday, how long will it take for them to be back up and running?
There was a queue at the ATM on my way home today - I managed to withdraw euros but a lady there said there was a 500-euro limit on withdrawals each day.
Interviews by Sarah Fowler