Few winners in Cyprus deal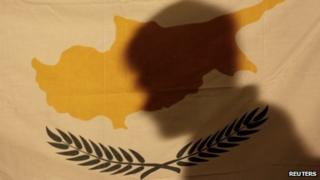 After 12 hours of negotiations, a deal was done in Brussels which protects Cyprus from bankruptcy.
It will stay in the eurozone and will receive a 10bn euro bailout.
Its rescue comes with a heavy price.
The battle to protect its business model as an offshore financial sector has been lost.
The German government in particular had opposed a model which attracted foreign investors with high interest rates and low regulation.
Afterwards, German Finance Minister Wolfgang Schaeuble said: "It was the result the German government always stood for."
In order to qualify for a rescue, Cyprus had to raise 5.8bn euros. It has done that by closing the Laiki (Popular) Bank. Further funds will be raised from tax increases and privatisations.
With the closing of Laiki Bank, thousands of bank workers will be without a job.
Bondholders and those with deposits of more than 100,000 euros ($130,000; £85,000) face significant losses; perhaps 40% or more. Their accounts will be frozen immediately and used to pay off the bank's debts.
Large depositors at the Bank of Cyprus - the island's largest bank - will face very severe losses. The details have yet to be worked out. This is where most of the Russian funds are.
All bank accounts with under 100,000 euros in them have been protected from any levy or one-off tax.
Tarnished reputation
As with other eurozone bailouts, the rescue is likely to deepen the recession and increase job losses. It combines austerity with the severe pruning of one of the country's key industries.
The EU's Economics Commissioner, Olli Rehn, said "the near future will be very difficult for the country and its people".
Days of uncertainty lie ahead.
It is not clear whether the banks will reopen on Tuesday. Neither is it known when restrictions on cash withdrawals will be lifted or what capital controls will be left in place.
There will be big, and innocent, losers.
What happens to the person who parked more than 100,000 euros in an account before buying a property or before paying foreign suppliers?
There will be much confusion, much argument, as the detail emerges and is argued over. The rescue, certainly in the short-term, will hit the Cypriot economy hard.
Cyprus has been saved but at what price?
Certainly in the country itself it is widely believed they have been treated unfairly.
French Finance Minister Pierre Moscovici said: "To all those who say we are strangling an entire people... Cyprus is a casino economy that was on the brink of bankruptcy."
The deal has left the eurozone's reputation tarnished.
It was prepared initially to tax small depositors, despite guarantees of protection; there is the perceived bullying of the European Central Bank and Germany; there are renewed doubts that such disparate countries can be held together in a monetary and economic union.
In Cyprus itself, it is very easy to find people who want to leave the eurozone when the time is right.
But for the EU, the risk of a country leaving the eurozone has gone away and with it the risk of contagion.
For Brussels that is a prize enough.