Bosnia jails Serb Veselin Vlahovic for war crimes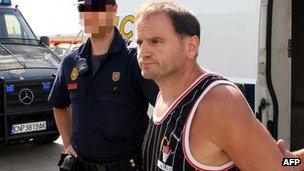 A court in Bosnia-Hercegovina has sentenced a former Serb paramilitary commander to 45 years in prison for war crimes during the 1992-95 conflict.
Veselin Vlahovic was found guilty on more than 60 counts, including the murder, rape and torture of Bosnian Muslim and Croat civilians in Sarajevo.
The Montenegrin - known as the "Monster of Grbavica", after a district of the city - had pleaded not guilty.
His sentence is the longest handed down so far by the Bosnian war crimes court.
The verdict took around two hours to read because of the large number of crimes involved.
In his closing statement, prosecutor Behaija Krnjic said Vlahovic's name was "the synonym for evil", and that he had killed 31 people, kidnapped 14 others still considered missing, and raped 13 women.
The crimes took place in three districts of Sarajevo controlled by Serb forces between May and July 1992 - Grbavica, Kovacici and Vraca.
BBC Balkans correspondent Guy Delauney says it is not the first time Vlahovic has been convicted.
He was sentenced to prison for robbery in his native Montenegro, but escaped 12 years ago.
He then lived in Spain under a Bulgarian passport until his arrest and extradition in 2010. Vlahovic was also wanted for armed robbery in Spain, and murder in Serbia.
Our correspondent says the relative speed of the trial is in contrast to proceedings at the International Criminal Tribunal for the former Yugoslavia at The Hague. Former Serb nationalist leader Vojislav Seselj has been in custody there for 10 years and his trial is still incomplete.