French reality TV doctor kills himself after contestant dies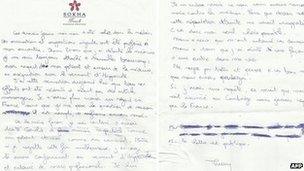 A doctor who worked on French adventure reality TV show Koh Lanta has killed himself in Cambodia after one of the programme's contestants died.
In a suicide note, Thierry Costa, 38, said his name had been "sullied by the media" over the death of Gerald Babin a week ago.
Mr Babin had a heart attack during filming on the island of Koh Rong.
Some media reports had criticised Dr Costa, saying he had taken too much time to treat the 25-year-old.
Mr Babin had complained of cramps on the first day of filming on the southern Cambodian island on 22 March.
Dr Costa administered emergency care before Mr Babin was airlifted to a mainland hospital where he died.
French authorities have launched a preliminary investigation into Mr Babin's death.
Broadcaster TF1 announced last week it would axe the popular show, described as France's version of Survivor, in response to his death.
The show's producers, Adventure Line Productions, confirmed that Dr Costa killed himself at a hotel in Cambodia on Monday.
He had been part of the Koh Lanta show for four seasons, assisting candidates who must survive on an uninhabited island and complete a series of challenges.
"This tragic event has to encourage those who accuse and comment without proper judgment to exercise responsibility," ALP said, adding that the doctor had left a suicide note.
In it, Dr Costa wrote that the accusations levelled against him had been "unfair".
"I am sure that I treated Gerald in a respectable manner, as a patient and not as a contestant. Even though I regret this sad end, I also acted in conformity with the Hippocratic oath."
The doctor added that "having to reconstruct this destroyed reputation would be unbearable".
He asked for his body to be cremated in Cambodia, "without ever going back to France".
The head of TF1, Nonce Paolini, described Dr Costa's death as a tragedy.
"The authors of the anonymous comments about the circumstances of Gerald Babin's death and those who spread them will have to face their conscience," he said.