Bosnian Serb leader Milorad Dodik defends Karadzic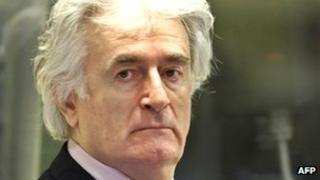 Bosnian Serb leader Milorad Dodik has defended his predecessor, Radovan Karadzic, against war crimes at his trial in The Hague.
Mr Dodik blamed Muslim ambition for an Islamic state as laying "the foundation for the future conflict in Bosnia".
More than 100,000 people died during the war from 1992-1995.
Mr Karadzic faces 10 charges of genocide and crimes against humanity during the war, including the siege of Sarajevo and the Srebrenica massacre.
The 67-year-old went on trial at the International Criminal Tribunal for the former Yugoslavia (ICTY) in October 2009, following his capture after almost 13 years on the run.
Mr Dodik is president of Bosnia's Serb-dominated Republika Srpska.
He accused the Muslims' war-time leader Alia Izetbegovic of seeking to create an Islamic state under Sharia law despite not having a majority in Bosnia in the months leading up to the outbreak of war.
"I recognised his activities at the time and how he was carrying out his political plan," Mr Dodik told the court. "It has elements of fanaticism."
He said Izetbegovic supporters armed Muslims before the conflict, and that the first victims of war were Serbs shot by Muslims.
Central to Mr Karadzic's defence is the argument that Serbs only resorted to military action to defend themselves from Muslim aggression during the collapse of the former Yugoslavia.
However, most allegations against Mr Karadzic at the ICTY involve Serbs persecuting and expelling Muslims and Croats.
More than 7,000 Bosniak (Bosnian Muslim) men and boys were killed at Srebrenica in the worst single atrocity in Europe since the end of World War II.
During the 44-month siege of Sarajevo more than 12,000 civilians died.
War in the former Yugoslavia 1991 - 1999
The former Yugoslavia was a Socialist state created after German occupation in World War II and a bitter civil war. A federation of six republics, it brought together Serbs, Croats, Bosnian Muslims, Albanians, Slovenes and others under a comparatively relaxed communist regime. Tensions between these groups were successfully suppressed under the leadership of President Tito.
After Tito's death in 1980, tensions re-emerged. Calls for more autonomy within Yugoslavia by nationalist groups led in 1991 to declarations of independence in Croatia and Slovenia. The Serb-dominated Yugoslav army lashed out, first in Slovenia and then in Croatia. Thousands were killed in the latter conflict which was paused in 1992 under a UN-monitored ceasefire.
Bosnia, with a complex mix of Serbs, Muslims and Croats, was next to try for independence. Bosnia's Serbs, backed by Serbs elsewhere in Yugoslavia, resisted. Under leader Radovan Karadzic, they threatened bloodshed if Bosnia's Muslims and Croats - who outnumbered Serbs - broke away. Despite European blessing for the move in a 1992 referendum, war came fast.
Yugoslav army units, withdrawn from Croatia and renamed the Bosnian Serb Army, carved out a huge swathe of Serb-dominated territory. Over a million Bosnian Muslims and Croats were driven from their homes in ethnic cleansing. Serbs suffered too. The capital Sarajevo was besieged and shelled. UN peacekeepers, brought in to quell the fighting, were seen as ineffective.
International peace efforts to stop the war failed, the UN was humiliated and over 100,000 died. The war ended in 1995 after NATO bombed the Bosnian Serbs and Muslim and Croat armies made gains on the ground. A US-brokered peace divided Bosnia into two self-governing entities, a Bosnian Serb republic and a Muslim-Croat federation lightly bound by a central government.
In August 1995 the Croatian army stormed areas in Croatia under Serb control prompting thousands to flee. Soon Croatia and Bosnia were fully independent. Slovenia and Macedonia had already gone. Montenegro left later. In 1999 Kosovo's ethnic Albanians fought Serbs in another brutal war to gain independence. Serbia ended the conflict beaten, battered and alone.
BACK
{current} of {total}
NEXT