Cahuzac scandal: French ministers to declare assets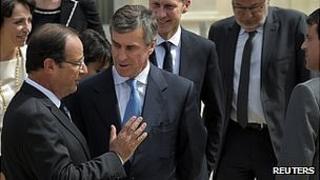 The French government says the value of ministers' assets will be published by 15 April in a new transparency drive, amid a scandal over tax evasion.
The Socialist government also says it will present a draft law obliging MPs to declare their assets and introducing tougher penalties for financial fraud.
Currently ministers only have to declare any conflict of interest.
France's ex-Budget Minister Jerome Cahuzac has been charged with fraud over a secret Swiss bank account.
He admitted last week that he had hidden about 600,000 euros (£509,000; $770,000) in a Swiss bank account, causing shock in France.
The former conservative Prime Minister, Francois Fillon, declared his property on Monday evening.
He said he had bought his home in Sarthe for 440,000 euros 20 years ago, and now valued it at about 650,000 euros. He said he had less than 100,000 euros in savings, in several bank accounts. He also said he had two cars, each more than 10 years old.
President Francois Hollande was also embarrassed last week when it emerged that his former Socialist Party treasurer, Jean-Jacques Augier, had personal investments in two Cayman Islands offshore companies.
Mr Augier, who managed Mr Hollande's campaign funds, insisted there was "nothing illegal" in his tax haven affairs.
The conservative opposition says it is dissatisfied with the transparency measures announced so far and is demanding a thorough reshuffle of Mr Hollande's government.
Mr Hollande had promised voters morality and integrity in public life after what were nicknamed the "bling-bling" years of his conservative predecessor Nicolas Sarkozy.
But this year Mr Hollande's opinion poll ratings have slumped, as the country remains mired in recession with unemployment at 10.6%.