UK labour costs below EU average - Eurostat data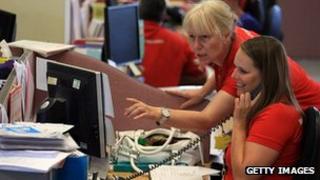 UK hourly labour costs have fallen nearly two euros (£1.7; $2.6) below the EU average, data from the EU's statistics agency Eurostat show.
The EU average in 2012 was 23.4 euros hourly - and in the UK it was 21.6.
Eurostat calls the figures estimates, based on enterprises with 10 or more staff. Labour costs mean wages plus some other costs such as employers' social contributions.
The costs vary widely in the EU - from 3.7 euros in Bulgaria to 39 in Sweden.
The Eurostat data were given in euros to enable comparison across the EU. The data cover the whole economy except for agriculture and public administration.
In the UK, hourly labour costs rose on average from 20.9 euros in 2008 to 21.6 euros in 2012 - a 3.3% rise. But measured in pounds sterling, and taking account of exchange rate fluctuations, the increase was 5.2%.
Eurostat says that in 2012 the non-wage costs for employers, as a share of total labour costs, were highest in France (33.6%), Sweden (33.3%) and Lithuania (28.3%). The UK was at the lower end of the scale - 15.1%, but even lower were Denmark (12.4%) and Luxembourg (13.4%).
In the eurozone the biggest increases in labour costs since 2008 were in Austria (15.5%), Slovakia (13.8%) and Finland (13.7%).
There was a big decrease of 11.2% in Greece - coinciding with the country's financial crisis.
In non-eurozone countries the biggest increases were in Bulgaria (42.6%) and Sweden (23.3%).