Savita Halappanavar inquest: 'Eight retrospective' notes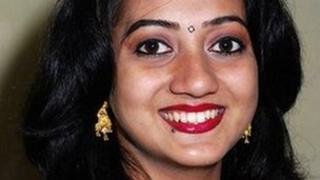 The inquest into the death of Savita Halappanavar has heard that there were eight retrospective entries made to her hospital records.
The 31-year-old died from septicaemia four days after a miscarriage in an Irish hospital.
Her widower has claimed she was refused an abortion because Ireland is "a Catholic country".
The barrister acting on behalf of Galway University Hospital said there was no intention to mislead.
The coroner was told five of the medical notes were written within an hour or so of the events happening. A further three were made in November.
Declan Buckley, who is acting on behalf of the hospital and its staff, said this was done in an attempt to remedy any shortcomings in the notes about a serious tragedy, which was the first direct maternal death at the hospital in 17 years.
Mr Buckley said he could not explain one retrospective entry relating to the 24 October, the day Mrs Halappanavar developed severe sepsis.
Medical condition
Earlier Savita's widower, Praveen Halappanavar thanked a senior nurse for her honesty at the inquest.
Ann Maria Burke had apologised for having referred to Ireland as a "Catholic country" during a conversation with Mrs Halappanavar requested a termination due to her medical condition.
Mr Halappanavar said he still "sticks to" his allegation that his wife's consultant obstetrician, Dr Katherine Astbury, made the same comment.
The senior medic has denied the claim, insisting she refused a termination the day before the miscarriage because there was no risk to Mrs Halappanavar's life at the time.
Mrs Halappanavar was admitted to hospital on Sunday, 21 October and delivered a still-born baby daughter on Wednesday 24 October. She died the following Sunday.
The inquest at Galway courthouse continues.