Cyprus: Bailed out or broken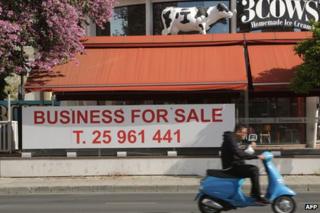 The question remains unanswered: has Cyprus been saved or has its economic future been put in jeopardy?
Doubts about its economic survival have re-emerged after it was revealed that the country needed to find 6bn euros (£5bn; $8bn) more than was agreed just three weeks ago. All the indications are that Cyprus itself will have to find the extra money. There may well be steeper taxes and even a sale of part of its gold reserves. This would be another first in the shifting territory of eurozone bailouts.
During the initial negotiations Europe turned a harsh face towards Cyprus. It needed a 17bn-euro rescue. The IMF, EU and ECB only agreed to stump up 10bn. The rest would have come from Cyprus itself and from those large depositors in the Bank of Cyprus and Laiki (Popular) Bank.
Germany, in particular, believed it was morally right that depositors, and not just their own taxpayers, should shoulder the burden of saving Cyprus. Germany also was insistent that the Cypriot business model - as an offshore banking sector - was not sustainable. Yes Cyprus was to be bailed out, but its financial sector would be broken.
In the aftermath of the rescue it was predicted that the Cypriot economy would shrink between 10 and 12% in two years. Some feared a steeper decline. After all, in Greece the economy has contracted nearly 25% in five years.
Now it seems further tax increases are inevitable and large depositors will be squeezed again. Some say this extra burden will further choke off the means of recovery.
The right policy?
It touches on the most fundamental question facing the eurozone: is its policy of reducing deficits and structural reforms saving or killing the patient? The Germans insist that growth will come from tighter budgets and reformed labour laws. They might be right in time, but southern Europe is in deep crisis now.
As the eurozone finance ministers gather today in Dublin for an informal meeting the list of problems only grows larger: what will they do about Cyprus, whose black hole is bigger than first thought? What will they do about Slovenia, which is in danger of becoming the sixth country to need bailing out? Will they extend the period for repaying debt for countries like Portugal and the Republic of Ireland? How will they deal with Spain - with 27% unemployment - and still struggling to revive its economy?
Over the New Year the optimists had a good run, but the time-scale for growth returning is forever being pushed back. The recession, in some countries, is deepening. Consumer demand in Italy and France has all but collapsed.
The Americans this week urged increased government spending and a looser monetary policy in Europe. Berlin and Brussels - the architects of this policy - see no need to change course. The German Finance Minister Wolfgang Schaeuble said "nobody in Europe sees the contradiction between fiscal consolidation and growth".
Privately European officials are very anxious. They are uncertain where growth will emerge from. Those doubts will be reflected in a softening of targets, in an easing of terms that does not quite add up to a U-turn, but signals their doubts that the policy to save the eurozone is working.