Fury as Russian Khimki forest journalist Beketov mourned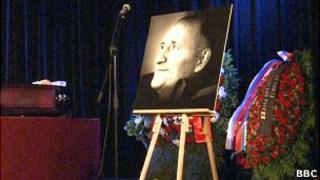 Mourners in Russia have expressed outrage over the death of a journalist who tried to protect a forest and died this week after a savage beating had left him brain-damaged.
Mikhail Beketov, 55, campaigned against government corruption and was left crippled by an attack in 2008.
A mourning ceremony was held on Thursday at the Moscow House of Journalists.
Beketov was the founder and editor of the Khimki Pravda newspaper and campaigned strongly against the construction of a highway through the Khimki forest near Moscow. He died on Monday from a heart attack, his lawyer Stalina Gurevich said.
His attackers were never identified.
Suspected cover-up
In their farewell speeches Beketov's friends and colleagues said it was widely known who was behind the attack which led to his death, but they are still at large.
"Investigators know the names of those who ordered this crime, but allude to a lack of evidence. The tragedy lies in the fact that our current rulers are not only corrupt, but openly criminal people. Mikhail has become an obstacle in their path. He tried almost single-handedly to fight the system, and it killed him," said Sergei Mitrokhin, leader of the opposition party Yabloko.
A paratrooper's blue beret was placed on Beketov's chest as a reminder of his two years in the Russian navy.
He graduated from the faculty of journalism at Moscow State University, then worked as a war correspondent in Afghanistan and Chechnya before founding the Khimki Pravda newspaper in 2007.
"Mikhail was a man with incredible willpower. He was brave and honest. Khimki has become another Chechnya," said Yelena Kostyuchenko, a fellow journalist who knew him well.
"They killed a prominent journalist - Anna Politkovskaya - and a human rights activist - Natalia Estemirova - to silence independent mass media who wrote about Chechnya. They killed Beketov to block all coverage of the Khimki events," she said.
"But I still believe that his killers will be found, condemned and prosecuted. And Mikhail will remain forever in people's memory as a hero."
Beketov wrote several articles criticising the planned destruction of the Khimki forest to make way for the Moscow-Saint Petersburg motorway.
He also raised suspicions that local officials were profiting from the project.
Soon after, on 13 November 2008, Beketov was attacked outside his home by two men using an iron bar. They smashed his hands and legs, and fractured his skull.
Beketov's right leg had to be amputated, he lost most of the fingers on his left hand and was left severely brain-damaged and unable to speak.
Khimki campaign
Every issue of Khimki Pravda, which was financed by Beketov himself, criticised local authorities.
In 2007 it reported on a decision to move a monument honouring servicemen killed in World War II. A few weeks later Beketov's car was set on fire.
The newspaper was the first to raise the issue of illegal felling of trees in Khimki forest - a protected area - and other violations which accompanied construction of the Moscow-St Petersburg highway.
The controversial project, backed by the Russian transport ministry, involved cutting a 3km-wide (1.8-mile wide) section through the Khimki forest.
"Mikhail was the first to say that a corrupt scheme was behind this proposal. We think people at the very top were involved in this affair and that stolen money is hidden in Cyprus offshore banks," Yevgenia Chirikova, an environmental activist in Khimki, told the BBC.
At the end of 2008 authorities launched an investigation into the brutal attack on Beketov, but two years later the case was dropped on the grounds that investigators could not find the perpetrators.
Awards but no justice
Beketov received several journalism prizes, including a government print media award in 2012.
Vladimir Putin, who was prime minister at the time of the assault on Beketov, met him and promised to take personal charge of his case.
Beketov's file was passed on to the Investigative Committee - Russia's version of the US FBI - with the words "for more thorough investigation".
But Beketov's lawyer says no progress was made.
Beketov himself always believed that the culprits and those who ordered the attack would be found and prosecuted.
In 2010, Beketov was found guilty of libelling the local mayor, but was subsequently acquitted.
Since then the administration of Khimki has been substantially changed. The new mayor even promised to help with the funeral arrangements.
Nevertheless, even on the eve of the funeral Beketov's family had to endure wrangling with the local authorities about the burial place.
In his final five years Beketov had been looked after mostly by his friends.