Anger over Justin Bieber's Anne Frank message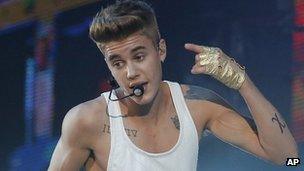 Justin Bieber has caused outrage with his message in a guestbook at the Anne Frank Museum, saying he hoped the Holocaust victim would have been a fan.
The 19-year-old pop idol wrote: "Truly inspiring to be able to come here. Anne was a great girl. Hopefully she would have been a belieber."
It has provoked fierce online criticism of the Canadian singer, who is in Amsterdam as part of a tour.
The museum defended the star but added his comment "wasn't very sensible".
Anne Frank's diary, written during the two years the teenager and her family hid from the Nazis in occupied Amsterdam, made her a symbol of the suffering of Jews during World War II.
The house has been turned into a museum dedicated to the young girl, who died in the Bergen-Belsen concentration camp in 1945 aged 15.
The suggestion that had she lived today, the teenager would have been a "belieber" - a term used by his devoted fans to describe themselves - generated thousands of horrified responses on social networking websites.
"Just saw what Justin Bieber wrote in the Anne Frank Museum guestbook. Absolutely disgusted," read one tweet.
"Way to turn an inspiring moment into something about yourself," read another.
However, museum spokeswoman Maatje Mostart defended the young star to the BBC, saying: "He's 19. It's a crazy life he's living, he didn't mean bad… and also it's nice that he made the effort, he didn't have to come."
Related Internet Links
The BBC is not responsible for the content of external sites.