Hungary backtracks in row with EU over constitution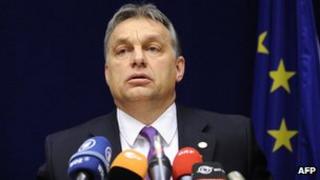 Hungary has moved to defuse a row with the EU over constitutional changes seen by some European politicians as a threat to Hungarians' human rights.
Hungary's justice ministry has proposed a motion - not yet passed by MPs - that appears to address some of the concerns raised by the European Commission.
The motion would curb the powers of a top legal official to send cases to certain courts.
And political adverts would be allowed in commercial as well as state media.
MEPs will hold a debate in Strasbourg on Wednesday concerning human rights in Hungary. It comes amid widespread concern voiced by MEPs, who suspect that Hungary's conservative Prime Minister Viktor Orban is undermining rights enshrined in EU treaties and by the Council of Europe.
In a statement ahead of the debate the Greens/EFA bloc of MEPs said "Prime Minister Orban... continues his anti-democratic lurch".
Mr Orban has said he is ready to co-operate to dispel such worries about the constitution. His party, Fidesz, insists that the constitutional changes conform with Hungary's legal responsibilities as an EU member.
But on Friday, European Commission President Jose Manuel Barroso sent a letter to Mr Orban warning that the changes in Hungary - called the Fourth Amendment - could be incompatible with EU law and the principle of the rule of law.
He said the Commission would take legal action against Hungary if it failed to address those concerns.
One concern - apparently addressed in the new justice ministry motion - is an article restricting election campaigning to state media alone.
But it is not clear whether Budapest will address another Commission concern - about an article dealing with European Court of Justice rulings that require payments from Hungary.
Dominant political force
Mr Orban has been able to push through changes because of the two-thirds majority that Fidesz and its allies enjoy in parliament.
The changes, adopted by the Hungarian parliament last month, include provisions previously deemed unconstitutional by the country's Constitutional Court.
Critics say that they will strengthen the power of the state, removing a number of checks and balances.
Mr Orban says the changes are necessary in order to complete the work of eradicating the legacy of Communism from Hungary. The constitution, enacted in January 2012, replaced one drafted in 1989, at a time when the country was emerging from 40 years of Communist rule.
On 8 April the deputy governor of the Hungarian central bank, Julia Kiraly, resigned in protest at administrative changes made at the bank under Fidesz. She was the only person on the policy board who was not appointed by either Mr Orban or Fidesz.