Irish soldier gets tax bill for army barracks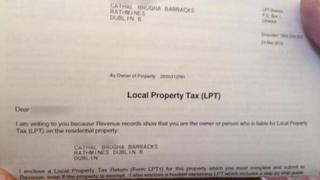 An Irish soldier has received a demand for property tax - on an army barracks.
The bill is for Cathal Brugha Barracks in Rathmines, Dublin, a key military base of the Irish Defence Forces.
It states: "I am writing to you because Revenue records show that you are the owner or person who is liable for Local Property Tax (LPT) on the residential property: Cathal Brugha Barracks."
The soldier is actually based in Dundalk, County Louth, and the story of the tax bill has been widely shared on social media.
A property tax for residential properties was announced in the Irish budget in December.
To date, the Office of the Revenue Commissioners, which is responsible for collecting taxes and duties in the Irish Republic, has sent out 1.2m letters in respect of 1.6m properties.
A spokeswoman said they could not comment on a specific case.
"Some errors"
However, she said that because no complete property register has previously existed and they used a number of sources to compile it, there would be mistakes.
The spokeswoman said: "To allow us to contact residential property owners, we've compiled a register of residential properties.
"To do this we used the Geo-Directory to identify properties and connected each property to a liable person using revenue data and data from a range of other sources.
"Data from the various sources has been cross-checked to ensure that the register is as accurate as possible. Because there was no existing complete property register, there will be some errors in our records and a very small minority of individuals will receive a letter in error."
The letters state anyone who is not the owner of the property, should contact Revenue on 1890 200 255 so that they can correct their records.
"It is most important that you don't ignore the letter because in the absence of any correction, Revenue will proceed on the basis that you are liable to pay LPT in respect of the property," say the letters.