Italian MPs fail to choose new president in first vote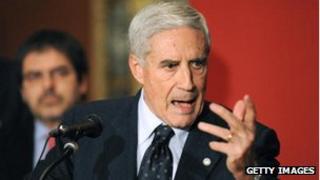 Italian politicians have failed to choose a new president in two initial rounds of voting.
The most popular candidate, former trade unionist and ex-Senate speaker, Franco Marini, fell well short of the two-thirds majority needed.
The presidential stalemate in Rome comes just weeks after Italy's general election ended in deadlock.
President Giorgio Napolitano is to step down at the end of his seven-year term, after failing to form a new cabinet.
A majority of MPs are reported to have cast blank ballots in the second round of voting on Thursday afternoon to buy time for consultations before voting resumes on Friday morning.
In the first vote held earlier in the day, Mr Marini received 521 votes from parliamentarians and regional representatives. But he fell well short of the 672 votes needed for an early result.
Stefano Rodota, the candidate backed by former comic Beppe Grillo's 5-Star Movement, came in second place with 240 votes.
'Disservice'
The new president will play a vital role in the effort to put together a viable government in Italy, which has been in political limbo since an inconclusive general election in February.
An interim government of technocrats remains in power, while politicians of many parties fail to agree on a ruling coalition.
The president will either have to bring new accord or tell all the parties to go back to the polls.
A second vote to find that president takes place later on Thursday, followed by two ballots a day until a clear winner emerges.
Centre-left leader, Pier Luigi Bersani, has backed the front-runner, Franco Marini, as candidate for president.
But his main leadership rival in the party - Matteo Renzi, the mayor of Florence - has said Mr Marini's presidency would be a "disservice" to Italy.
Other candidates proved much less popular in the first vote.
Former prime ministers Romano Prodi and Massimo D'Alema received 14 and 12 votes respectively.
Emma Bonino, former Commissioner in Brussels and fervent pro-European, had been talked about as the strongest contender to be Italy's first female president. She received just 13 votes in today's first round.