European watchdog moves to monitor Hungary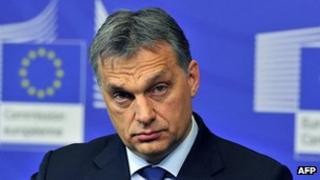 A committee of the Council of Europe, the continent's main human rights and democracy watchdog, has recommended monitoring Hungary.
The monitoring committee of the Council's Parliamentary Assembly cited deep concerns at "the erosion of democratic checks and balances" there.
The Assembly's bureau will now decide whether to open a monitoring procedure.
Hungarian Prime Minister Viktor Orban's conservative government is accused of eroding democratic rights.
It passed a new constitution last year which, critics argue, strengthens the power of the state excessively, removing a number of checks and balances on its power.
The Council of Europe brings together 47 countries to promote international co-operation, spanning the EU and former Soviet bloc.