Eta 'top commander' gets life sentence in France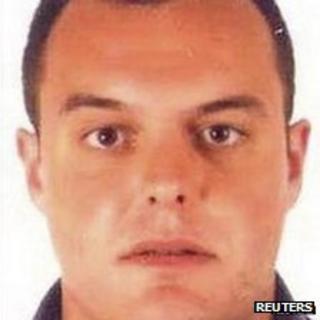 A suspected military leader of the Basque separatist group Eta has been sentenced to life in jail for the 2007 murder of two policemen in France.
A court in Paris ruled that Mikel Kabikoitz Karrera Sarobe must spend at least 22 years behind the bars for the shooting of the Spanish officers.
Saioa Sanchez Iturregui, a co-defendant, was jailed for 28 years.
Eta is blamed for more than 800 deaths during its decades-long campaign of violence for Basque independence.
On Thursday, the court in Paris also acquitted Asier Bengoa Lopez de Armentia of the murder charges.
However, he was sentenced to 15 years in jail on other charges.
The two Spanish officers, Raul Centeno Bayon and Fernando Trapero Blazquez, were killed in the French town of Capbreton, near the Spanish border.
The authorities said they were attacked while travelling in their vehicle on assignment in France.
In 2011, Eta announced an end to its armed struggle for the Basque independence in northern Spain and south-western France.
Spain is rejecting Eta's offer to enter talks with its leaders, demanding the group's unconditional dissolution first.