US man sought over murders of 'Czech ukulele family'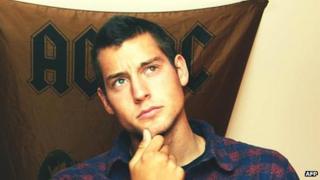 Czech police are looking for a US man from California suspected of killing a family of four in the southern city of Brno.
Officials warned the 20-year-old, named as Kevin Dahlgren, was "dangerous and possibly armed".
The bodies of a couple and their two sons were discovered overnight after a blaze broke out in their home.
A local ukulele band told the AP news agency that two of its members were among the victims.
Authorities have released a photo from the suspect's Facebook profile page which lists him as being from the Californian city of Palo Alto.
The man "goes by the name Kevin Dahlgren on social networks, lives in California and speaks only English", police said in an online statement.
Officials added that they were co-operating with international law enforcement agencies to confirm the suspect's identity.
Police have not confirmed reports that he may have been related to the family.
Czech media report that the suspect was an English teacher who had only recently moved to Brno, 200km (125 miles) southeast of the capital Prague.
He is thought to have set the house on fire after killing the family.
Rescuers called to the scene to tackle the blaze realised immediately that "a violent crime had likely been committed there," a spokesman for the firefighters said.
Two of the male victims were reportedly musicians in the amateur Ukulele Orchestra jako Brno.
Neighbours told local media that one of the murdered sons was under 18.