Silvio Berlusconi sex trial prosecutor 'sent bullets'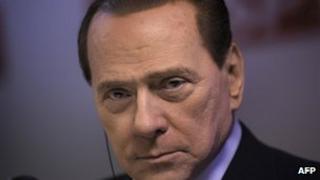 A prosecutor who requested a six-year sentence for Italy's former Prime Minister Silvio Berlusconi has been sent threats including a letter with two bullets, her office says.
Ilda Boccassini had also asked that Mr Berlusconi be banned for life from public office for allegedly paying for sex with a 17-year-old dancer.
Both the dancer, Karima El-Mahroug, and Mr Berlusconi have denied the allegations.
A verdict is expected on 24 June.
"In the last few weeks there has been a crescendo of anonymous letters containing serious threats against Boccassini, including one yesterday containing two bullets," Milan prosecutor Edmondo Bruti Liberati said in a statement.
He added that the prosecutors' office would continue to fulfil its duties with "unchanged serenity".
In the trial, the prosecution in Milan have alleged that women were invited to Mr Berlusconi's private residence for so-called "bunga-bunga" party evenings as part of a prostitution system set up for his personal sexual satisfaction.
Paying for sex with a 17-year-old is an offence under Italian law.
Mr Berlusconi is also charged with abusing his power of office after calling a police station to press for the release of Ms Mahroug when she was arrested in Milan in a separate petty theft case.
He has acknowledged the phone call but says it was made as a favour to former Egyptian President Hosni Mubarak, whose granddaughter he believed Ms Mahroug to be.
The 76-year-old already faces a four-year prison sentence and five-year ban from public office for a fraud conviction, which he is expected to appeal against in Italy's highest court, the Court of Cassation.
Earlier this month Italian prosecutors requested a new corruption trial against Mr Berlusconi, saying he had allegedly bribed a left-wing senator to defect to his right-wing People of Freedom party (PDL) in 2006.
Mr Berlusconi claims he is the victim of a campaign by left-wing magistrates.