French ex-leader Giscard d'Estaing reveals panda attack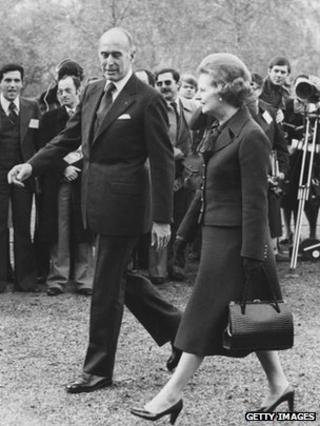 Former French President Valery Giscard d'Estaing has revealed he was once jumped on by a panda when he dared himself to enter its cage.
He said he had been visiting Vincennes Zoo in Paris, where his daughter was on work experience, when he decided to test his "presidential courage".
A panda leapt on him and staff had to free him from its claws, Mr Giscard d'Estaing, 87, told a conference.
An expert at Edinburgh Zoo told the BBC the ex-leader had had a lucky escape.
"Although they are vegetarian bears, obviously at the end of the day pandas are still very powerful and muscular bears with teeth and claws to match," Iain Valentine, director of giant pandas at the zoo, told the BBC News website.
"Although not particularly aggressive by nature, pandas do have this potential and are very territorial animals. You can go in with young animals under the age of two years; however, after this age we really would not recommend it and certainly our keepers are never in the same area as our giant pandas."
Mr Giscard d'Estaing, who was in office from 1974 to 1981, was speaking at an event in Blois, capital of the north-central region of Loir-et-Cher.
Video of his speech on Tuesday evening was circulated by national media on Thursday.
The pandas, he said, had been a gift from China to his predecessor as president, Georges Pompidou.
"They came to extract me from its claws but imagine what would have been said had the animal knocked me to the ground," the famously tall president - he is 1.89m (6ft 2in) - remarked to laughter from the audience.
Mr Giscard d'Estaing is often regarded as the most cultivated and most aristocratic of recent French presidents, if not the most pompous.