Sicily Mafia trial: Politicians in the dock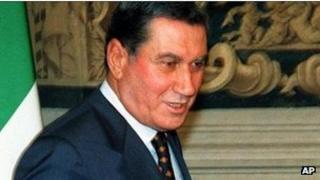 Top former Italian politicians and policemen have gone on trial alongside Mafia godfathers in Sicily.
Prosecutors allege that representatives of the state made secret deals with the gangsters in an effort to halt a series of deadly bombings in the early 1990s.
Ex-interior minister Nicola Mancino protested on Monday at being tried alongside Mafia bosses like the infamous Toto Riina.
"I have always fought the Mafia," he insisted.
"I can't be in the same trial as where there is Mafia.
"I have confidence and hope that justice will be done, and that I can be out of the trial as soon as possible," he said.
He is accused of giving false testimony to prosecutors investigating the case - charges he denies.
Another former minister, Calogero Mannino, is also being put on trial.
The witnesses may include top figures like President Giorgio Napolitano.
Violent blackmail
About 20 years ago, the Mafia was making war on the Italian state, says the BBC's correspondent in Rome, Alan Johnston.
There were car bombings in Rome, Florence and Milan, and two leading anti-mafia prosecutors died in devastating explosions in Sicily.
It has been alleged that state officials "knelt to the Mafia", giving in to its violent blackmail and making behind-the-scenes agreements in an attempt to restore calm, our correspondent says.
These included deals to pursue the gangsters less vigorously, and to ease conditions for those who were already in jail.
But as yet nothing is proven, and this extremely complex case is expected to go on for years, he says.