Greece coalition split by racism bill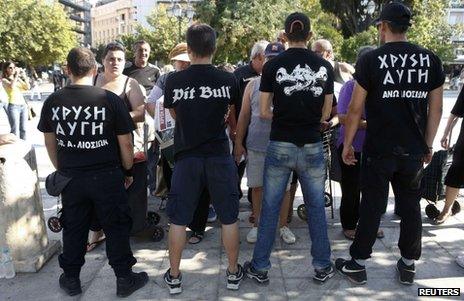 Talks between Greece's governing parties over how to tackle a surge of anti-immigrant violence have broken down without agreement.
Pasok, the second largest of the three parties, wants to introduce an anti-racism law to curtail the activities of the far-right party, Golden Dawn.
But the biggest party, New Democracy, believes existing laws are sufficient.
Human rights groups have expressed alarm at a rise in attacks against ethnic minorities in Greece.
Evangelos Venizelos, leader of the socialist Pasok party, appeared to be referring to Golden Dawn when he said: "We have an international obligation... to have all-encompassing legislation against pro-Nazi and violent racist behaviour.
"Because Greece has a political grouping that is unabashedly Nazi and organises acts that essentially breach the rule of law."
Golden Dawn has rapidly increased its support during Greece's severe economic and social crisis, winning 18 seats at the last election.
It uses strong anti-immigrant language and its emblem resembles a swastika - but it denies it is a neo-Nazi party or that it is involved in violence.
Mr Venizelos said he wanted the bill to go through with the support of the two main coalition parties along with the third, Democratic Left.
But after talks late on Monday he said there was "no political agreement".
But he indicated that if New Democracy refused to support the bill, it could still be presented to parliament, where it could be passed with the backing of Democratic Left and the left-wing opposition party, Syriza.