Europe is afraid - the battle for new jobs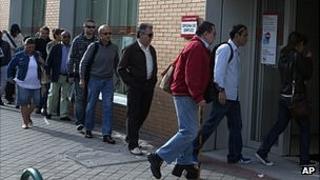 Europe's leaders, rather belatedly, are recognising that youth unemployment threatens the entire European project.
At a conference in Paris on Tuesday, organised by the Berggruen Institute on Governance, fear and warnings flowed from every speech.
Jacques Attali, a French economist and former adviser to the late president Francois Mitterrand, warned of a Europe in danger of "falling asleep", of young people being excluded from a changing world.
It was a theme echoed by the French President, Francois Hollande, who spoke of a Europe wracked by doubt, wondering whether Europe has any meaning at all. He spoke about hatred and anger, with citizens turning their backs on the European project. The very idea of Europe, he said, was being challenged.
Werner Hoyer, the President of the European Investment Bank, said that unemployment posed a "real threat to the European project". It undermined the trust of a whole generation, he said.
Several leaders, including the French president, said that progress had been made in handling the eurozone crisis. The German Finance Minister, Wolfgang Schaeuble, agreed that, in relation to the eurozone, "I think we have done quite well". But he said this was not enough, otherwise, "we will lose the struggle for EU unity".
In this climate there is now a whole raft of ideas and schemes about how to get Europe working again. All of this is building towards a summit on 28 June, which the French Finance Minister, Pierre Moscovici, said "will be a turning point in the history of Europe".
Europe is setting itself a deadline to adopt a grand plan to address unemployment. Whether reality will match ambition is less clear.
Six billion euros has been earmarked by the European Commission to target youth unemployment. There is - under development - a youth guarantee scheme, where after four to six months without work there will be the promise of training or an internship.
The Germans are launching a series of bilateral deals with countries like Spain, Portugal and Greece to finance apprenticeships in Germany and to help with lending to small companies.
One of the German ministers was encouraging young people to move to Germany. "We can help with training costs and language costs," she said.
Weak lending
There is recognition that if unemployment is to fall then small and medium-size companies need to be helped. For they provide two-thirds of all jobs. "They are the backbone of the EU," said the German Labour Minister, Ursula von der Leyen.
There are difficulties. At the moment a company in northern Italy can be paying an interest rate 2.5% higher than a German company to the north. And companies in southern Europe are struggling to access credit. So the European Investment Bank was recently recapitalised. Helping small and medium-sized companies will be one of the priorities.
Mr Moscovici said "we are redefining the balance between reducing deficits and growth". There is no question but that there is less emphasis on controlling budgets and reducing spending.
The Germans continue to push for structural reforms - like freeing up the labour market. Mr Moscovici thought it necessary to tell his audience that the French were not afraid of structural reforms.
Europe's leaders know that promises of further integration and unity are not enough - Europe will be judged on whether it can deliver, particular employment. So a vigorous debate is under way, as to where jobs come and whether the EU's structures and regulations help or hinder in incubating innovation.